From the Desk
of the President
Marc B. Hahn, DO
President and Chief Executive Officer
Last month, our university welcomed 307 alumni and guests to campus for KCU's 2017 Homecoming and Update in Medicine. Attendees enjoyed three days of activities and events to reconnect with fellow colleagues
and classmates, and take part in another exceptional continuing medical education conference. Alumni arrived from 33 different states, representing 50 different classes - including as far back as the Class of 1945.
Of particular note this year was the outstanding participation by our alumni in our annual fundraising challenges. The Reunion Challenge raised $244,225 - up 38 percent over last year. The Class of 1977 won
both the Butterworth Challenge, with 24 percent of the class making a gift, and the Strickland Challenge, representing the class with the highest fundraising total: $85,000 from 33 alumni, more than double the amount raised through the Challenge last year. A heartfelt thanks to all of our alumni who are our finest ambassadors and whose generosity ensures KCU
continues to provide excellence in osteopathic medical education for generations to come.
Read more
about this year's Homecoming and check out our Facebook
photo album
for a glimpse of this year's activities.
Honoring Dr. Mike Johnston
Alumni attending this year's Homecoming business luncheon witnessed the surprise recog
nitio
n of
Dr. G. Michael Johnston,
vice dean for the KCU Kansas City College of Osteopathic Medicine and professor of m
ore 20 years. Ho
norin
g Dr. Johnston's dedication and service to KCU, we were pleased
to officially dedicate "Johnston
Way," recognizing both Dr. Johnston's positiv
e impact on students and the actual walkway he travels daily between the Strickland Education Pavilion and our administration building. We are grateful to
Dr. J for his longstanding commitment to our university.
Dr. Ronnie Martin Joins KCU as Joplin Campus Interim Dean
Ronnie Martin, DO, has been appointed interim Joplin campus dean, following the resigna
tion of Dr.
Paula Gregory
last month
. Dr. Martin brings
significant experience as a clinician, educator, administrator and national leader in the osteopathic profession.
He comes to KCU from Liberty University College of Osteopathic Medicine in Lynchburg, Virginia, where he served as the founding dean from 2012 to 2017. He also held positions as interim dean for Medical Education for Danville Regional Medical Center in Danville, Virginia, and vice dean for Post Graduate Affairs for Edward Via College of Osteopathic Medicine in Blacksburg, Virginia. Dr. Martin has been a professor of Family Medicine and an academic consultant. He has also served as a commissioner for the Commission on Osteopathic College Accreditation (COCA) and on COCA's Committee for College Accreditation Training. KCU will be performing a national search for a permanent dean for our Joplin campus.
KCU Named 'Healthy KC Certified Company'
KCU has been recognized by the Greater Kansas City Chamber of Commerce as a Healthy KC Certified Company at the highest Platinum Level for fostering a culture of health and wellness in the workplace. This is based on our performance in five key areas: Nutrition, Physical Activity, Tobacco Cessation, Work-Life Integration and Design/Built Environment. The University will be formally recognized at an annual event in the weeks ahead.
Learn more
.
Congratulations Alumni Award Winners
Also announced during the 2017 Homecoming were this year's alumni award winners.
Congratulations to the following alumni for their outstanding contribution
s to our university and our osteopathic profession. Learn more.
Alumni Awards
Dr. Joel Corn
, COM '45, Alumni Service
Dr. Molly Menser
, COM '07, Young Alumni Achievement
Dr. Robert Mannino
, COM '71, Alumni Achievement
Dr. Michael Frayser
, COM '03, Star Spangled Medallion
Dr. Joel Feder
, COM '75, Alumnus of the Year
Ms. Marilyn DeGeus,
Distinguished Service
KCU continues to be busy with upcoming events and activities. Keep in mind the following important date.
Stay connected with your university! Follow me
@KCUMBpresident
to learn more about the latest KCU initiatives and updates in the osteopathic profession.
Introducing 'Community KCU'
Last month, KCU launched our new alumni engagement and communication platform, Community KCU. This new website interacts with our Advancement database, allowing alumni to update their records, stay in touch with classmates and other alumni, live chat with friends and colleagues, see and share photos, select their preferences for the information they receive from KCU and more. Access the site
to learn more and register.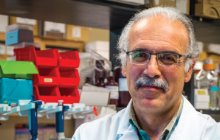 KCU Researcher Identifies Possible Biomarker for Early Detection of Alzheimer's
Abdulbaki Agbas, PhD, has published research that may take us significantly closer to detecting the early stages of Alzheimer's disease. The exploratory study, which appears in
Future Science OA
,
suggests that a blood platelet screening with a specific antibody has the potential to be a useful tool for diagnosis.

The study was initiated at KCU and received a pilot grant award from the University of Kansas Alzheimer's Disease Center. KCU College of Osteopathic Medicine students also participated in the research.
Read more
.
Fourth-year medical student Maaheen Ahmed recently devoted many hours volunteering with hurricane recovery efforts in her hometown of Houston. Maaheen was back in Houston doing clinical rotations and documented her experiences in writing and video. A blog about her work appears on the KCU website, and the online publication, Inside OME, featured a video submitted by our Community Engagement team.
New Video Tells Story of Joplin Campus
See how KCU-Joplin became a reality and the growing impact our second campus is having on the communities in the southwest corner of the state. This video captures the remarkable dedication of Joplin community partners

to raise more than $30 million in 18 months and work

with KCU to build a state-of-the-art osteopathic medical school.
We have more exciting news than ever before at KCU! In addition to the important updates included in this month's e-newsletter, be sure to check out the current issue of KCU Magazine and visit KCU News for other stories, such as: