From the Desk of the President
March 2019
Marc B. Hahn, DO
President and Chief Executive Officer
Read biography | Follow @KCUMBpresident
Read about KCU in the News
Greetings, KCU family:
The first quarter of 2019 witnessed a number of exciting activities on our campuses, with the expansion of our efforts in Joplin of particular note. We are blessed to be part of a community that so wholeheartedly embraces KCU's mission of "improving the well-being of the communities we serve" and is eager to partner with us to help ensure greater access to health care for residents in the four-corners states.
To that end, we are completing our due diligence for establishing a College of Dental Medicine on KCU's Joplin campus to address the shortage of dentists in the surrounding rural areas. We hired a vice provost for oral health initiatives to assist with the process and, to date, we have received nearly $20 million in philanthropic commitments toward this much-needed pillar of health care for the region. KCU's Score 1 For Health screening program for elementary school children also debuted on our Joplin campus with great success. We were pleased to partner with Missouri Southern State University and Crowder College to bring health screenings to underserved children in the area. See the news briefs below for additional details.
James Koelbl, DDS, Named Vice Provost for Oral Health Initiatives
James Koelbl, DDS, MS, MJ , has joined KCU as vice provost for oral health initiatives and will help guide us in our continued exploration of establishing a College of Dental Medicine on the campus of KCU-Joplin. He will play an instrumental role in assessing faculty and patient needs, as well as lead outreach to the regional dental community and potential clinical partners. Recently, Dr. Koelbl was recognized by the American Dental Education Association (ADEA) with the 2019 Distinguished Service Award.
Joplin Globe Publishes Oral Health Op-Ed

I was pleased to submit an opinion-editorial to The Joplin Globe, underscoring both the need for dentists to serve the four-corners region surrounding Joplin and the opportunity for KCU to help meet the demand. The Globe published the piece March 3. We are completing our due diligence for developing a College of Dental Medicine in Joplin and are committed to working across state borders to partner with other educational institutions, civic and philanthropic entities, and the dental and medical communities to make this great hope a reality.
Score 1 For Health Launches in Joplin

SCORE 1 for Health officially debuted its health screening program on KCU's Joplin campus in February. The launch included four events attended by more than 700 students from four different elementary schools. KCU medical students teamed with Missouri Southern State University dental hygiene and nursing students and Crowder College nursing students under the supervision of physicians and RNs to provide a variety of health assessments. SCORE 1 co-founder, Deron Cherry, attended the first event. Learn more about Cherry's unique perspective into the program in The Joplin Globe.
Now in its 25th year, SCORE 1 for Health provides health screenings to elementary school-age children typically within inner-city or underserved areas of the community. Second-year medical students administer the free screenings, providing an unparalleled opportunity for learning and serving those in need. Read more about SCORE 1 in Joplin.
See additional news below. And, be sure to stay connected with your university! Follow me @KCUMBpresident to learn more about the latest KCU initiatives and updates in the osteopathic profession.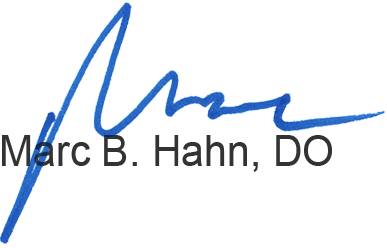 Research Symposium Celebrates Science in Record Numbers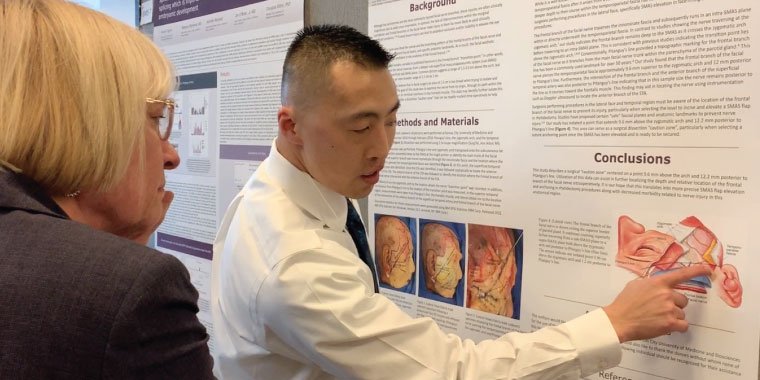 More than 1,000 students, faculty, staff and guests attended KCU's annual Research Symposium on March 20 to share in the discovery of research. Held on both the Kansas City and Joplin campuses, the event featured student, faculty and guest research presentations on cancer, hematological diseases, physical diseases, psychiatry and psychology. KCU students received awards for both oral and poster presentations. Read the coverage in the Joplin Globe. Watch our video.
W. Joshua Cox, DO, Receives Prestigious Educator Award

W. Joshua Cox, DO, a 2000 KCU graduate and associate dean of Clinical Education and professor of Family Medicine, was honored recently by the American College of Osteopathic Family Physicians (ACOFP) with the Osteopathic Family Medicine Educator of the Year Award. This prestigious award recognizes an individual who exemplifies the profession's highest standards of excellence in teaching, and who has made significant, commendable, and long-standing contributions to the academic advancement of osteopathic students, residents and the osteopathic profession.
KCU 2018 Annual Report Now Available

The University has published our 2018 Annual Report, which provides a context for KCU's many initiatives during the last fiscal year based upon the goals set forth in our 2017 - 2022 KCU Strategic Plan. "Building a Foundation of Partnership and Innovation" acknowledges these two critical drivers of long-term success in health sciences education and highlights our university's activities during the last year in key areas. We have accomplished a great deal this past year and look forward to additional initiatives that will ensure our continued growth in health sciences education.
BioNexus KC Highlights COB Students' Research

KCU College of Biosciences (COB) students Chloe Nagasawa and Allison Ogren recently presented research findings at the Annual Meeting of the American Society of Human Genetics. Mentored by Dr. Douglas Bittell, KCU associate professor of Biosciences, their research on infant congenital heart defects analyzed infant heart tissue discarded during surgical repair thus identifying genetic variations that interfered with proper heart development during gestation. BioNexus KC, which highlights life sciences resources and their value to the community through collaboration and commercialization , recently featured a blog on the students' work.
Read Additional Stories and the Latest Updates
We have more exciting news than ever before at KCU! In addition to the important updates included in this month's e-newsletter, be sure to check out the current issue of KCU Magazine and visit KCU News for other stories, such as:

---
Kansas City University is Making an Impact in Our Community ...
For more than 100 years, KCU has been living our mission of "improving the well-being of the communities we serve."
KCU is the largest medical school in Missouri and the 9th-largest medical school in the United States.
KCU is the second-leading educator of physicians for both Missouri and Kansas, as well as in the Kansas City metropolitan area.
KCU addresses national physician workforce shortages, with 57 percent of our alumni practicing in primary care specialties.
KCU has a great impact both regionally and locally, with 31 percent of our alumni practicing in a five-state region (Missouri, Kansas, Oklahoma, Arkansas and Illinois), including 761 in the Kansas City metropolitan area alone.