From the Desk of the President
June 2019
Marc B. Hahn, DO
President and Chief Executive Officer
Read biography | Follow @KCUMBpresident
Read about KCU in the News
Greetings, KCU family:
We've had a lot of exciting news on our campus this past month!
During our May 11 commencement, KCU celebrated a record 362 osteopathic physicians and scientists who walked across the stage to receive their degrees. We applaud members of the Class of 2019, as well as their friends, families and faculty in supporting their hard work.
On the heels of graduation, I was proud to formally announce KCU's plans to move forward with construction of our Harry M. Cornell Center for Dental Education on the KCU-Joplin campus. In less than six months, we have achieved nearly 50 percent of our $40 million philanthropic goal, allowing this dream to become a reality. The new dental college will accept its first class of 80 students beginning in 2022, addressing a critical shortage of dentists within southwest Missouri, northwest Arkansas, northeast Oklahoma and southeast Kansas. This marks a major growth initiative for KCU in becoming a more comprehensive health sciences university to meet the health care needs of the communities we serve.
In the midst of these two milestone events, KCU also received the accreditation status of "Exceptional Outcome" from the Commission on Osteopathic College Accreditation (COCA). Executive Dean Darrin D'Agostino, DO, and the accreditation committee are to be commended for their dedication and hard work.
Please see the briefs below for additional highlights of these stories. I look forward to sharing more exciting news about our KCU community in the months ahead.
KCU Announces Plans to Build College of Dental Medicine on Joplin Campus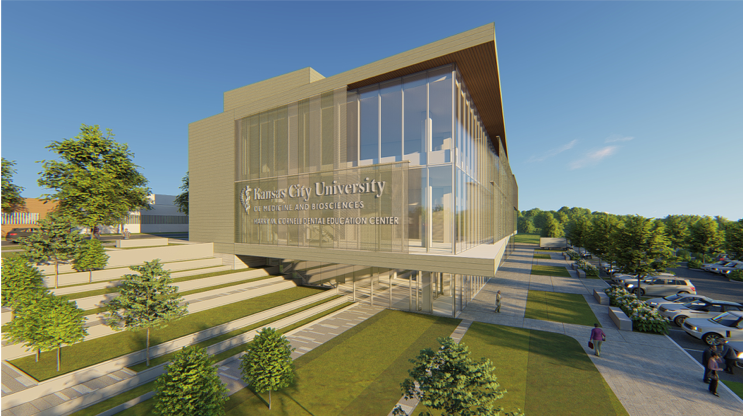 During a press conference in conjunction with the June 4 meeting of our board of trustees, it became official: With $20 million secured in philanthropic support from the Joplin community, KCU plans to build a new college of dental medicine on the KCU-Joplin campus.
The University has committed an additional $40 million toward the $80 million project and is working to raise the remaining $20 million through philanthropy. We anticipate breaking ground in 2020 with the first class of 80 students expected to matriculate in 2022.
With a shortage of more than 750 dentists and only three dental schools in the four-state area, the addition of the Harry M. Cornell Center for Dental Education will infuse much- needed oral health services into a largely underserved area. Learn more about the new college of dental medicine, read the Joplin Globe coverage and view some of the television coverage.
Record Number Graduate in KCU Health Sciences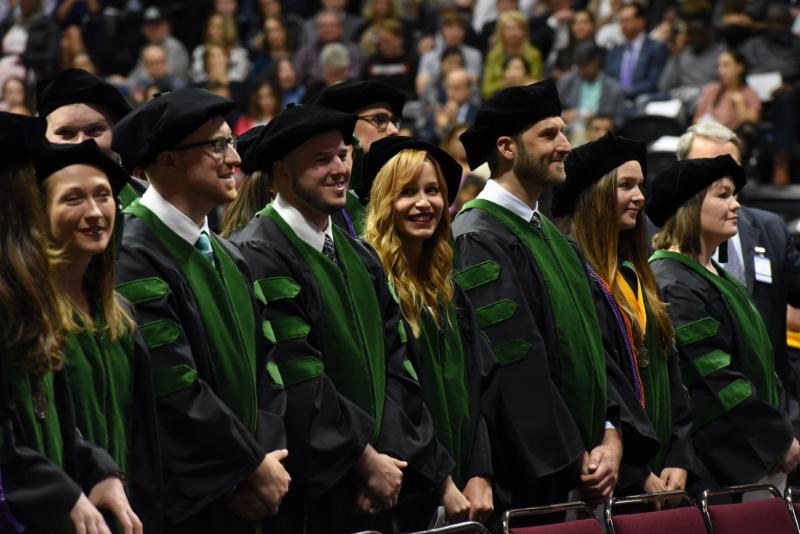 This year, KCU graduated a record 362 students — 235 from the College of Osteopathic Medicine and 127 from the College of Biosciences. Of particular note, KCU also conferred a record number of dual and triple degrees, 62 in all.
The ceremony, held May 11 at Municipal Auditorium in Kansas City, Mo., was attended by well over 1,000 friends and family with an additional 1,300 viewers tuning in through our live YouTube broadcast.
We were pleased to welcome American Osteopathic Association President and KCU alum William Mayo, DO (COM '81), who delivered an inspirational keynote address touching on the promising advances in the osteopathic profession.
Read more about our Class of 2019 graduation, view Part 1 and Part 2 of our Facebook photo album and watch the commencement ceremony in our video.
KCU-COM Garners Highest Accreditation Status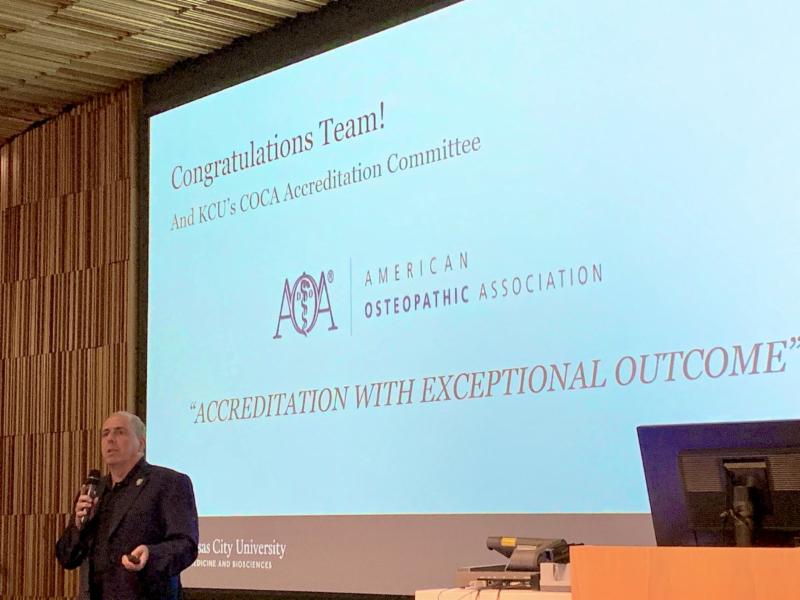 The Commission on Osteopathic College Accreditation (COCA) recently awarded KCU with the designation "Exceptional Outcome."
This status, in place for 10 years, is the highest recognition of excellence a medical school can achieve. KCU is one of only four colleges of osteopathic medicine nationally to hold a 10-year "exceptional" designation.
Darrin D'Agostino, DO, executive dean for the College of Osteopathic Medicine, made the announcement during KCU's 2019 commencement ceremony. Provost Ed O'Connor, PhD, congratulated Dr. D'Agostino and his accreditation team, as well as recognizing the contributions of our entire KCU family, during the June Town Hall. Learn more about this tremendous accomplishment.
Important Dates
Joplin Whitecoat Ceremony - July 20
Kansas City Whitecoat Ceremony - July 28
COB Pinning Ceremony - August 1
Homecoming - Sept. 12 -14
See additional news briefs below. And, be sure to stay connected with your university! Follow me @KCUMBpresident to learn more about the latest KCU initiatives and updates in the osteopathic profession.
I wish everyone a safe and enjoyable summer season!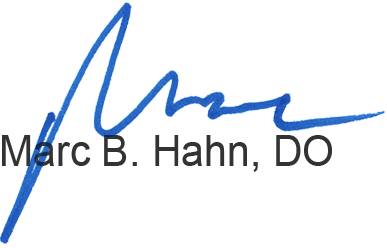 ---
Personal Tragedy Drives Graduate's Career Decision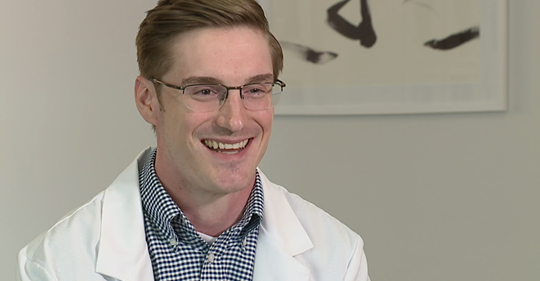 Despite serious injuries and intense physical therapy following an accident in his third year as a KCU medical student, Dr. Zac Fulton never took his eye off the prize. Following a remarkable recovery, he walked across the stage May 11 to receive his DO degree with 361 of his fellow students.
Dr. Fulton drew upon his experiences as a patient and medical student to fine-tune his career objective: He is ready to begin his residency in orthopedic surgery. Watch the TV coverage on KSHB and KMBC.
KCU Hosts Congressional Staff Members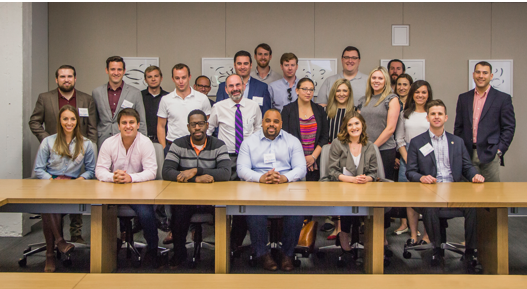 Chiefs of Staff from Missouri and Kansas federal legislators, along with those from both governors' offices, visited KCU May 30 as part of the Kansas City Chamber of Commerce Spotlight Tour. This 3-day tour and workshop focuses on regional policy priorities, opportunities and challenges. While at KCU, attendees heard an update on key university initiatives, including our plans with the Paseo Gateway Project, and participated in a tour led by student ambassadors.
KCU hosted staff members from the offices of U.S. Representatives Emmanuel Cleaver, Ron Estes, Sam Graves, Roger Marshall, Steve Watkins, Sharice Davids and Vicky Hartzler; U.S. Senators Roy Blunt, Josh Hawley, Jerry Moran and Pat Roberts; and Governors Laura Kelly and Mike Parson.
KCU-Joplin MAOPS Student Chapter Receives 2019 'Advocate of the Year'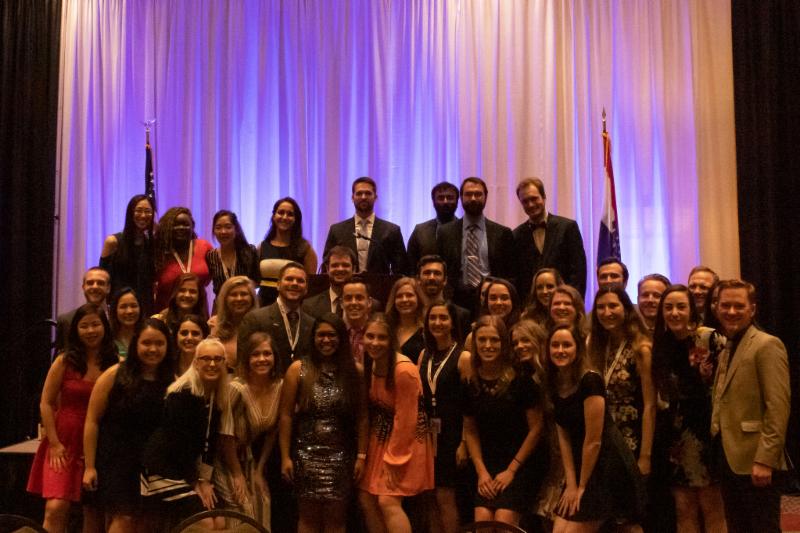 The Missouri Association of Osteopathic Physicians and Surgeons (MAOPS) recently honored the KCU-Joplin student chapter with the prestigious 2019 Advocate of the Year Award. The award honors those who have provided advocacy for the osteopathic profession.
The student chapter at our Joplin campus is one of the largest, most active student organizations on campus, boasting 140 student members. Thirty-nine student doctors along with chapter advisor Jared Nichols, DO, attended the Midwest Osteopathic Annual Convention to receive the honor. Read more about the KCU-Joplin chapter award.
Faculty Member, Alum Honored by National Kidney Foundation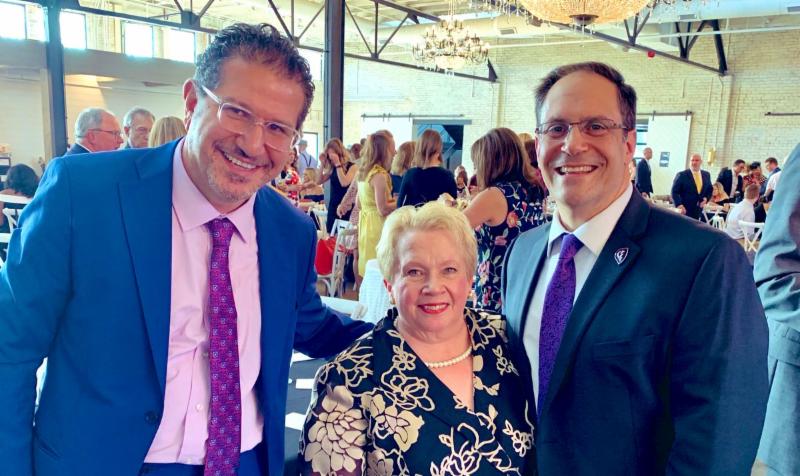 Carol Kirila, DO, KCU assistant professor of Primary Care, and alum Ahmed Awad, DO (COM '94), assistant professor of medicine at the University of Missouri-Kansas City, recently received the Patrick and Virginia Clune Award of Excellence from the National Kidney Foundation. Patrick and Virginia Clune founded the Kansas City chapter of the National Kidney Foundation in 1966.
The award honors an outstanding person, corporation and/or medical professional in the greater Kansas City community that has made great accomplishments toward the awareness, prevention and treatment of kidney disease. Congratulations to Drs. Kirlia and Awad on their recognition.
KCU Scholarship Matching Fund Continues to Grow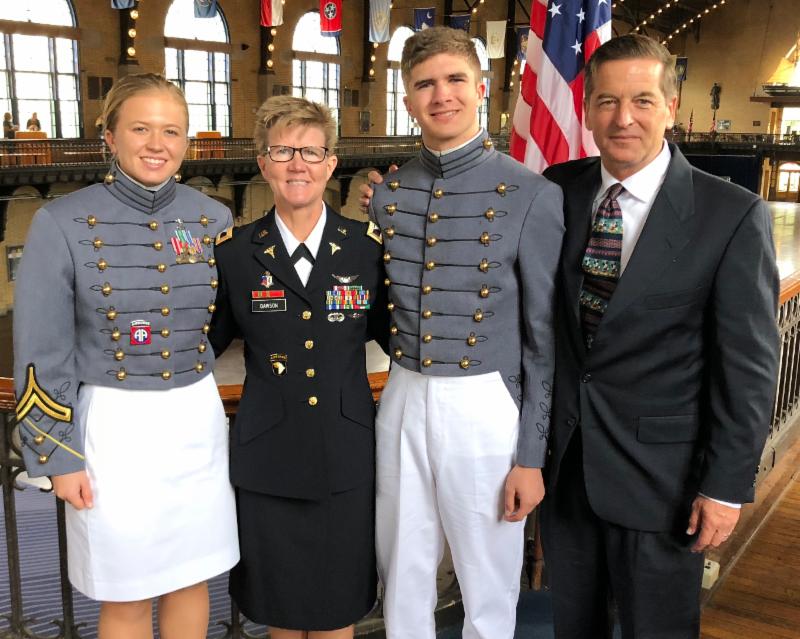 To date, KCU has received more than $276,000 from 455 donors toward our Scholarship Match Challenge goal of $1 million. The program will match all donations 1:1 to create a total fund of $2 million.
KCU alum Laura Dawson, DO (COM '06), is a model for giving back to her country and her university. She recently relinquished her Deputy Commander position at West Point in preparation for her third deployment to Iraq, while also making a $1,000 gift to the KCU Scholarship Match Challenge.
The KCU Scholarship Match Challenge, which was announced during Homecoming 2018, concludes this September. For more information on how to contribute, visit the KCU Scholarship Match page.
PsyD Faculty Honored With 2019 'Psychologist of the Year'

Sarah Getch, PhD, director of Health Service Psychology, and Robynne Lute, PsyD, director of Clinical Psychology Training, each received the 2019 Psychologist of the Year award from the Missouri Psychological Association (MOPA) at its annual conference June 7.
Drs. Getch and Lute were recognized for their efforts in building KCU's PsyD program and its positive impact on helping to meet the shortage of mental health providers in the state. Both were also recognized for their efforts to train students in integrated health care. Congratulations to Drs. Getch and Lute!
Read Additional Stories and the Latest Updates
We have more exciting news than ever before at KCU! In addition to the important updates included in this month's e-newsletter, be sure to check out the current issue of KCU Magazine and visit KCU News for other stories, such as:

---
Kansas City University is Making an Impact in Our Community ...
For more than 100 years, KCU has been living our mission of "improving the well-being of the communities we serve."
KCU is the largest medical school in Missouri and the 9th-largest medical school in the United States.
KCU is the second-leading educator of physicians for both Missouri and Kansas, as well as in the Kansas City metropolitan area.
KCU addresses national physician workforce shortages, with 57 percent of our alumni practicing in primary care specialties.
KCU has a great impact both regionally and locally, with 31 percent of our alumni practicing in a five-state region (Missouri, Kansas, Oklahoma, Arkansas and Illinois), including 761 in the Kansas City metropolitan area alone.