A busy few days on the Kansas City campus of KCU officially kicked off with these words, "Welcome to Homecoming 2017! It is great to see so many of our alumni here."
Marc B. Hahn, DO, FAOCA, KCU President and CEO, greeted the returning alumni Thursday at the Heritage Society Recognition Breakfast for three days of Homecoming events. This year marks KCU's 101st year of educating the next generation of physicians.
This year, 307 alumni and guests will attend KCU's Homecoming events, traveling from 33 different states. Alumni represented 50 graduating classes, including Dr. Joel Corn who graduated in 1945, the earliest class in attendance.
During each homecoming, alumni and medical professionals return to campus to take part in Continuing Medical Education courses. This year, subjects include integrated health care in primary care, the role of the DO in the opioid crisis, and the latest in neurology.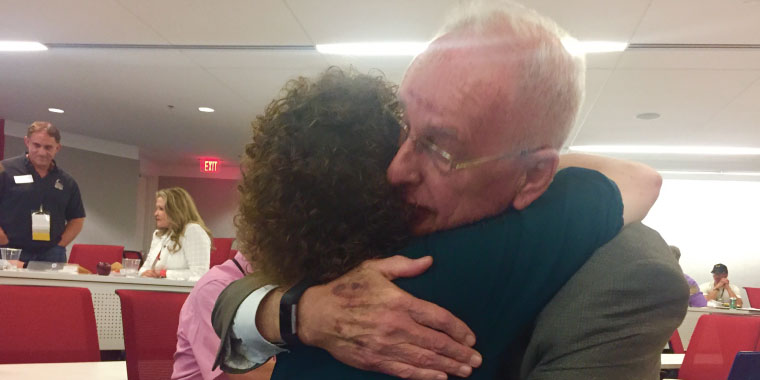 The three day event was not all work and included a big surprise. Alums, faculty, staff and students took time to gather, eat and reconnect during the Homecoming picnic. But while the Alumni Luncheon and Business Meeting began as business as usual, it took an unexpected turn when Dr. Hahn honored Dr. Mike Johnston for his 20 years of work and service at KCU.
"I am proud to announce the establishment of Johnston Way in honor of Dr. J's dedication and service to KCU," Hahn said. A sign establishing G. Michael Johnston, DO, Way is now placed between the Administration and SEP buildings on campus.